Expedited Custom Development Available

Your software should adapt to your strategy. Not the other way around.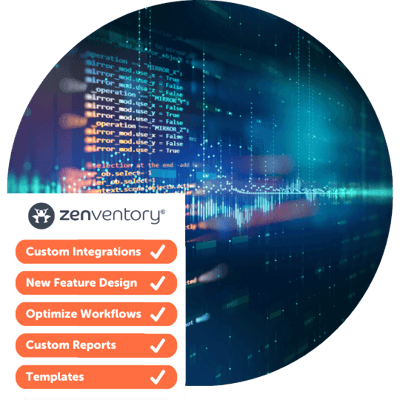 NEED SOMETHING NOBODY HAS YET? YOU'RE IN THE RIGHT PLACE.
The Zenventory team is here to help you solve any challenges,
even the ones nobody else has figured out yet.

Custom integrations.

New feature design & development optimized for bespoke workflows.

Custom reports and document templates.

Dedicated project manager during development.
How does custom development work?
We'll begin with a discovery call to identify your needs and how they map to the capabilities of our off-the-shelf software, which is robust and flexible enough on its own to meet most needs. If any gaps are discovered, or opportunities to optimize something in a new way that yields substantial additional value for your organization, we'll provide a detailed proposal of the possibilities we see and move forward with scoping.
How does pricing work?
Most custom development projects involve a one-time cost, which varies based on the time, effort, and expertise required. A quote will be provided in writing early in the process for your review, along with info on our current lead times. Certain projects might also involve recurring costs depending on the specific nature of the objective, and any recurring costs are itemized clearly within our proposal. If the presented plan meets all your requirements and fits with your budget and timeline, we'll send an invoice to kick things off and get things in motion.
What's your typical lead time for custom development?
This varies greatly, but our typical custom development projects are completed within 30-60 days on average. Bigger projects involving a longer timeline can often be broken up into smaller deliverable milestones, and these are released individually ASAP in advance of the overall project's final completion.
Are you interested in learning more about custom development?