An Easier Way to Run Your Warehouse.

Zenventory was built for 3PLs. Win over customers by having a multi-client inventory and order management application that is easy to use and promotes transparency, collaboration, and automation with your customers.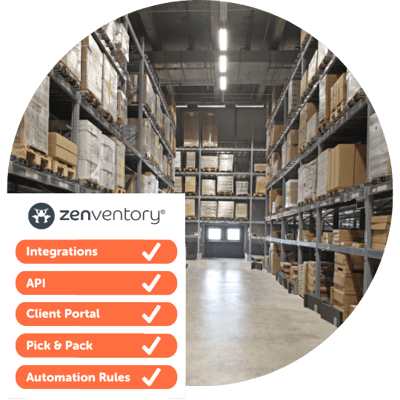 3PL-SPECIFIC FEATURES
Streamline & Optimize Your Logistics Operations

Off-the-Shelf Integrations
Zenventory supports many major marketplaces like Shopify, BigCommerce, WooCommerce, along with many others. So, if your clients use any of the major marketplaces, then easily integrate with Zenventory.

API
Zenventory has integrations for all major marketplaces, but we also support the one-offs with our API. needed, connect to all your clients' online marketplaces with Zenventory's API. Using our API, you can automatically download orders from all your clients' channels.

Client Portal
A client portal is a win-win for both you and your customers because it frees up precious time for your employees, while making your clients more self-sufficient. Use client portals and help customers get answers like inventory levels and order fulfillment statuses on their own.

Automatic Billable Charges
Set up automatic calculations of billable charges based on user-defined rules for each client. Utilize Zenventory's automation to make the billing process hassle-free.

Warehouse/Multi-Warehouse Support
Manage inventory across all of your warehouses with one system. Use location mapping to pinpoint stock in larger warehouses. Print location barcodes to speedup put-away and picking. Automate cycle counting (never shut down a warehouse to count inventory again!)

Streamline Pick & Pack
Electronically pick from the web or Zenventory mobile app (Android and iOS compatible), or use a custom printed pick list. Use group-based picking for large warehouses to allow staff to customize batches of items to pick based on type or location for order consolidation. Or, pick an order by order.

Automation Rules
Eliminate hours of your day by setting up automation rules with Zenventory. Our expert team will walk through your current process and help you set up our software and automation rules to best serve your needs. Automation rules can turn a multi-click process into one-click - saving hours of tedious, manual work.

Lot Numbers, Expiration Dates
Support your clients' products with lot numbers and expiration dates. Lot numbers and expiration date records are captured and tracked in Zenventory during the receiving process.

Dynamic Order Tags
Make it so that you and your team can quickly identify your order tags with icons, labels, and colors. Set up automation rules to apply the tags automatically or add them manually at any time in batches.

Unlimited Warehouse Users
As your fulfillment team grows, don't worry about extra fees. Whether your warehouse team is 5 people or 500 people, Zenventory's price stays the same.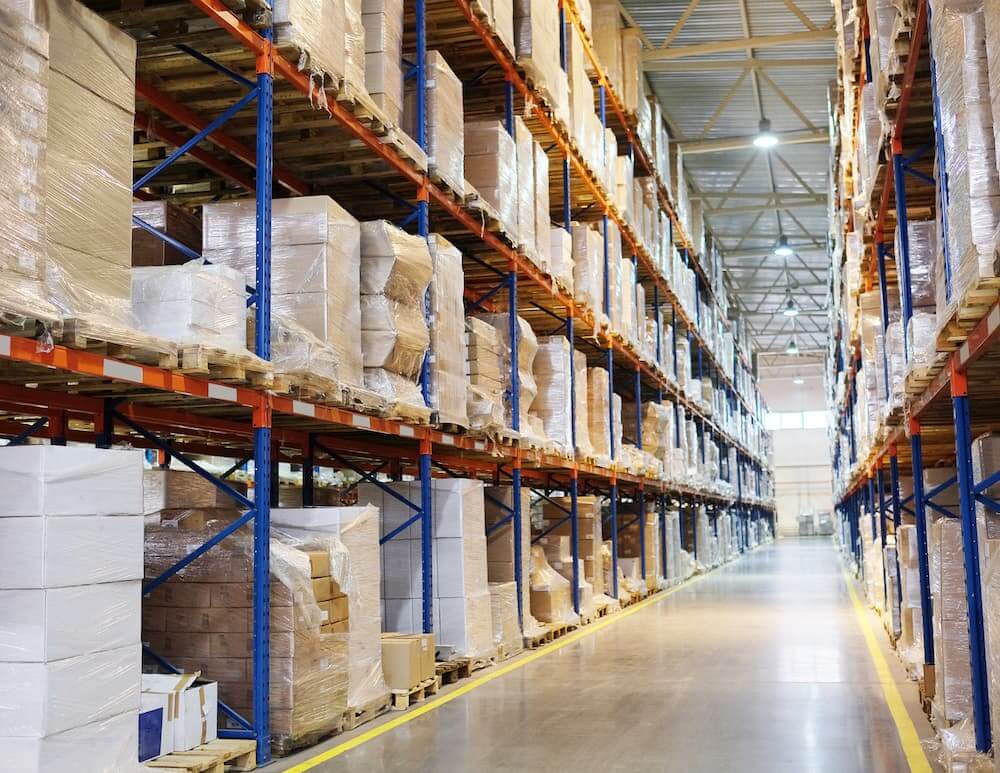 "Zenventory helps our customers be more self-sufficient."
Read our 3PL Fulfillment Case Study to see how Zenventory helped one of our customers: Complete Fulfillment & Distribution.
How does Zenventory separate data by fulfillment client?
All client data that flows into Zenventory will get unique identifiers to let the system know which particular client it belongs to. As a 3PL operator, you'll have a global, birds-eye view of all data that you manage, but you can also filter things by client in order to drill down easily when needed. And clients will never be able to access each other's data; they'll only be able to see their own (and only if you choose to grant them portal access).
What can my clients do in the portal?
The goal is self-service capability: Clients can conveniently do what they need to do in Zenventory, so they can skip calling/emailing you for routine tasks or real-time visibility to their data. Client portal access is highly customizable per client, but a client user with maximum access would be able to manage their own SKU catalog, set up their own kits/bundles, see order fulfillment status/create manual orders, manage their list of suppliers, create POs/inbound orders, and even manage their own integration setup.
Does Zenventory help with client billing?
Yes! Zenventory supports the creation of unique billing scenarios per client, including shipping upcharges, handling fees, receiving fees, storage fees, assembly fees, and even customized miscellaneous charges. You can set these manually in the interface or let the system do it using our powerful automation rules. Once you set up the rules, the system will auto-calculate charges based on activity in the system and provide a handy statement in digital or PDF format for you & your clients.
How do my clients get their orders into Zenventory?
Zenventory offers direct integrations to all major marketplaces, such as Shopify, Amazon, and eBay. If you use ShipStation to consolidate order integrations, our robust integration to ShipStation is fully 3PL-ready and allows assignment of ShipStation stores to your Zenventory clients, so orders will always land in the right place. Need more options? We offer a well-documented REST API, an easy-to-use CSV import tool, and an option in the client portal for them to create manual orders directly in Zenventory.
Do I need a separate shipping system?
Probably not! Zenventory supports USPS, UPS, FedEx, DHL eCommerce, and Canada Post label generation within our interface directly. Zenventory's batch shipping capabilities rival the best standalone shipping systems, and you only have to train your team on one system that does everything. Have a shipping system that you love already? Zenventory can add 3PL functionality to all the major shipping engines as well, with support for ShipStation, ShippingEasy, and ShipWorks.
Can I white-label the interface?
Yes! You can add your own company branding elements to the interface to give it a unique look & feel. Clients will see your logo & color scheme when they log in rather than Zenventory's, and help requests from your clients in our interface will be redirected to your own support team's email or ticketing system.
Ready to become your customer's fulfillment champion?