Easy-to-Use Inventory Software for Schools & Universities

Free your staff to focus on what's important with Zenventory's time-saving inventory management tools.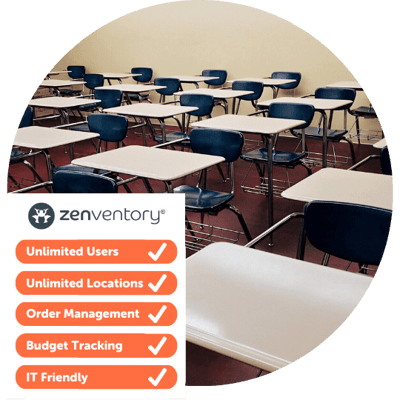 USER-FRIENDLY INVENTORY MANAGEMENT
Better Data for Administrators, Less Grunt Work for Teachers
Educators shouldn't run out of critical supplies or worry about extra hours added to their day for manual logistics and procurement tasks. Say goodbye to pen and paper, spreadsheets, and emails - And hello to a streamlined, all-in-one inventory app that your busy staff will thank you for.

Unlimited Locations
Track supplies by classroom, closet, store room, warehouse, or any other location type, giving administrators a birds-eye view of all inventory positions.

Unlimited Users
Zenventory's fixed, budget-friendly pricing allows for your whole staff to enjoy the benefits and work from the same system at no additional cost per user account.

Order Management
Supplies can be requested through the app, triggering email notifications to the appropriate team or department to review, approve, and fulfill the order.

Budget Tracking
Enforce spending limits by user or department with quick visibility to remaining budget amounts that reset automatically on the appropriate date.

IT Friendly
No software to install or user licenses to maintain. Simply log in from a web browser to launch Zenventory on a new machine with no local configuration required.

Go Mobile
Our free companion app for Android / iOS allows you to roam freely and use existing handheld devices for inventory functions.
Is technical support included?
Yes! Our friendly Arizona-based team of experts is available to help you solve any obstacles by telephone or email from 7AM-5PM, Monday through Friday. Give us a call! (480) 530-2100
What does the initial setup process entail?
Every organization's needs are unique, so you'll have a dedicated onboarding manager from our team to walk you through the entire process from start to finish to ensure a successful launch. We will help you import your existing data, set your system preferences, and provide interactive training on all workflows. Most implementations are completed in under 14 days, but we can move at whatever speed you need based on your availability and any deadlines.
Can you support single sign-on (SSO) for user management?
Yes, in most cases. Contact us with more details on your SSO implementation to confirm feasibility and pricing.
Interested in easy-to-use inventory management tools?