Hospital Inventory Management Software

Reduce costs and keep your team focused on what matters most with efficient and reliable inventory management tools for healthcare organizations.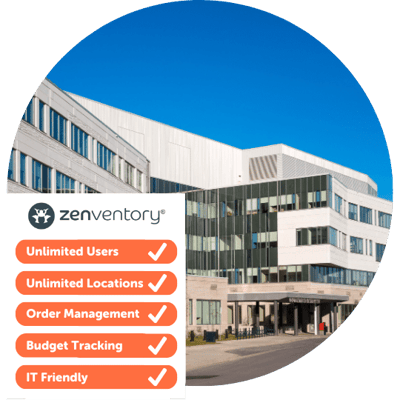 HAVE THE RIGHT SUPPLIES. AT THE RIGHT TIME. EVERY TIME.
Accurate, real-time data for admins. Less manual work for clinicians!
Your team should never face shortages of critical supplies or be burdened with time-consuming manual logistics and procurement tasks. Embrace a streamlined, all-in-one inventory application that will earn appreciation from your busy hospital staff.

Support unlimited locations
Monitor supplies across various hospital areas, such as wards, storage rooms, warehouses, and more, giving administrators a comprehensive view of inventory in every location.

Unlimited users to support your team
Zenventory's fixed, budget-friendly pricing ensures your entire hospital staff can benefit from the system without incurring extra costs per user account.

Order management for hospitals
Effortlessly request supplies through the app, triggering email notifications to the relevant teams or departments for order review, approval, and fulfillment.

Budget monitoring
Implement spending limits by user or department and easily track remaining budget amounts with automatic resets on designated dates.

IT simplified
No need for software installations or user licenses to manage. Simply log in via a web browser to access on any new device, no local configuration required.


Free mobile companion app
Our free companion app for Android and iOS allows for mobility, enabling you to use existing handheld devices for seamless inventory management.
Do I have to pay extra for technical support?
Nope! Technical support is included in every plan.
Our friendly Arizona-based team of experts is standing by to help you solve any obstacles by telephone or email from 7 AM - 5 PM (Arizona time), Monday through Friday. Give us a call: (480) 530-2100
Do you have experience supporting inventory management for hospitals?
Yes! Zenventory has supported many hospitals and healthcare organizations with inventory management. We know the challenges you face and how to utilize Zenventory to solve them.
Book a product tour to see a tailored demonstration of Zenventory.
What does the initial setup process look like?
Every organization's needs are different. That's why we provide a dedicated onboarding manager from our team to walk you through the entire process from start to finish to make sure you have a successful launch. We will help with the import of existing data, set up your system preferences, and provide interactive training on all workflows.
Most implementations are completed in under 14 days, but we can move at whatever pace you need based on availability and deadlines.
Do you support single sign-on (SSO) for user management?
Yes, we can support SSO in most cases. Contact us with more details about your SSO implementation, and we will confirm feasibility and pricing.
Ready for reliable & efficient inventory management?