Inventory Operations Software for Disaster Management Agencies

Easy to use inventory and transfer management for unlimited locations and unlimited users.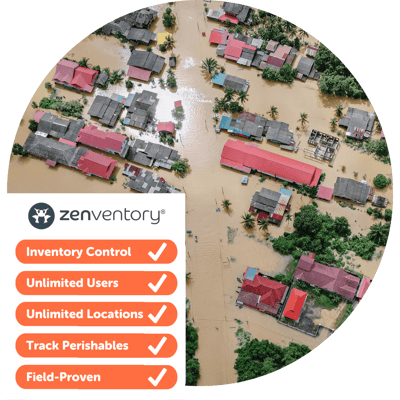 RELIABLE INVENTORY CONTROL
Be Ready When Disaster Strikes
Zenventory provides disaster management agencies with reliable inventory control across unlimited locations, so there is never any doubt that your most crucial assets are available in an urgent time of need.

Unlimited Locations
Track your emergency supplies in as many places as you store it.

Unlimited Users
Enjoy the efficiencies of everyone working in the same system, with no extra cost for larger teams.

Track Perishable Stock
Track perishable inventory with First-Expiring, First-Out (FEFO) enforcement.

Lot Numbers
Trace lot numbers to facilitate recalls or dispose of compromised stock.

Mobile App
Work on the go. Mobile-ready for iOS and Android.

Field-Proven & Trusted by Top Agencies
Field-proven and trusted by some of the largest disaster management agencies in the US.
My agency requires cloud-hosted applications to be hosted on GovCloud, can you support this?
Yes, on our Custom plan tier. Contact us for pricing.
Do you support pre-assembled supply kits?
Yes! Pre-packaged supply kit inventory can be managed in Zenventory separately from individual components. You can also manage tasks involved with pre-packaging activity ("work orders").
Can you support single sign-on (SSO) for user management?
Yes, in most cases. Contact us with more details on your SSO implementation to confirm feasibility and pricing.
Are you ready to be prepared when disaster strikes?