Your Inventory.
Now Reliable.
It doesn't matter whether you have multiple platforms, sales sources, or warehouses; our software ensures you always have accurate inventory that stays accurate.
* Free trial is 14 days. No credit card required.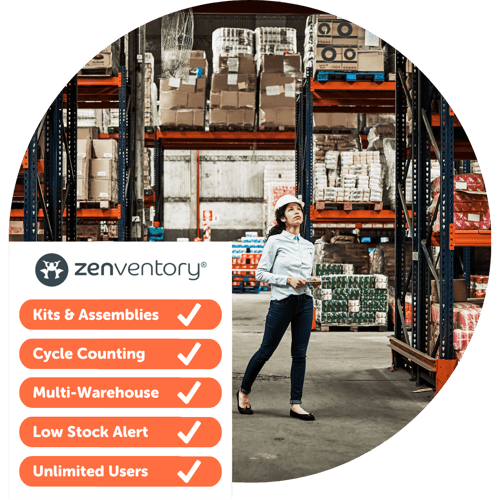 FEATURES
Inventory Management Software

Item Management
Easily import your initial items, including item numbers, SKUs, UPC, EAN, category, and initial stock levels to get up and running fast. Set up multiple units of measure and create variants. Upload one or more pictures per item. Assign to one or more warehouses and set re-order levels per warehouse. Manage lot numbers, serial numbers, and expiration dates.

Cycle Counting
Cycle counting is an effective and accurate best practice for warehouse maintenance. Cycle counting helps you avoid shutting down your warehouse to complete a wall-to-wall inventory count, saving you time and money. Use our app to perform counts of locations based on selected criteria.

Multi-Warehouse Ready
Do you work with multiple warehouses? No problem. Manage inventory across all of them in a single system. Choose which items are stored in each warehouse. Connect marketplaces with rules to each warehouse for order fulfillment. Designate different shipping strategies for each warehouse too. Map your internal warehouse locations into a simple list or an organized hierarchy. Print location barcodes for easy scanning during put-away, picking, and cycle counting. Easily transfer inventory between warehouses to maintain the right balance.

Low Stock Alerts & More
Get notified by email when your stock reaches minimum levels, expiration dates are approaching, and when it is depleted. Zenventory can send SMS text messages to key personnel as well. All messages are completely customizable and can be sent to specific Zenventory users, vendors, 3PL clients, customers, and more.

Par Levels
Inventory is expensive - you want to avoid unnecessary stock on hand. Known as the item's "par level," Zenventory calculates the "sweet spot" of quantity to keep on hand to fulfill orders and allow lead time for reordering. That way, you avoid having excess products stored on the shelves (that could be money in the bank).

Receive & Put Away Goods
Use a computer, tablet, or mobile app to efficiently receive goods and store them in warehouse locations. Lot numbers and expiration date records are captured during the receiving process, and default locations can be set. Stock can easily be relocated or split up to multiple locations to improve picking efficiency.

Multiple Views
Review inventory by warehouse and location. Filter by vendor. Identify low and expiring stock. Calculate buildable kits. Search by SKU, description, or category.

Kitting
Zenventory can manage vendor catalogs including lead times, order minimums, and pricing. If the same item is purchased from multiple vendors, Zenventory can help you make the smartest purchasing choices to replenish your stock.
GAIN INSIGHTS
Inventory Software Reports
Our software provides the following up-to-date reports on Inventory Management:
Current Cost of Inventory By Category

Current Cost of Inventory By SKU

Inventory In Stock

Inventory By Warehouse

Expiring Inventory

Inventory Usage Summar

Inventory Usage Summary

Unallocated Order Items
Delivered Inventory

Received Inventory

Serial Numbers By Locations

Lot Numbers By Locations

Accuracy Measurements

Stock In/Out

Kits