Inventory Software with Integrated Delivery Management

Receive internal orders, manage inventory, and orchestrate delivery operations in one easy-to-use system. No need for custom integrations or ad-hoc workarounds.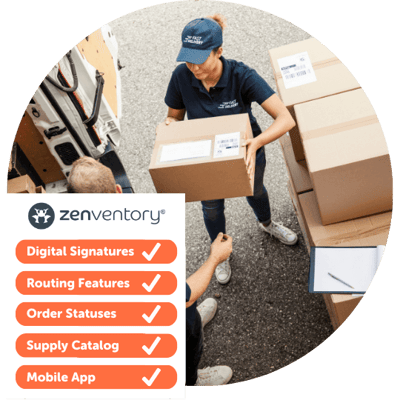 EASIER FOR YOUR DELIVERY TEAM. EASIER FOR YOUR BUDGET.
A unified solution built for the entire warehousing-to-delivery workflow.

Deliver packages with your own personnel and capture digital signatures for proof of delivery.

Advanced routing features available.

Track order status through our portal.

Online supply catalog for placing orders (no more emails or paper requisition forms!)

Mobile app for pre-delivery pick & pack verification.

Comprehensive reporting for inbound, outbound, and everything in between.
How does the online supply catalog work?
Your internal customers can view your catalog, submit orders electronically, and track their status through the portal. You can limit customers to placing orders from certain warehouses based on their region, or allow ordering from any location managed in the system if you choose.
What happens after orders are placed?
Submitted orders are transmitted to the fulfillment queue and handled from there by your warehouse team, based how you set up your workflow using business rules. Inventory is deducted from the system's counts as it is pulled from the shelf before being pushed over to the mobile app for your delivery crew to run with. Custody of the package remains tracked until it is delivered and signed for by the intended recipient at the end of the process.
Is Zenventory a WMS?
Yes - Zenventory includes features for inventory management (including lot/batch tracing), assembly/kitting, cycle counts, location moves, automated replenishment, and more. But unlike most WMS applications, Zenventory has an integrated delivery app available to support an end-to-end workflow for organizations that manage their own delivery fleet to fulfill orders.
Ready to take your delivery management to the next level?