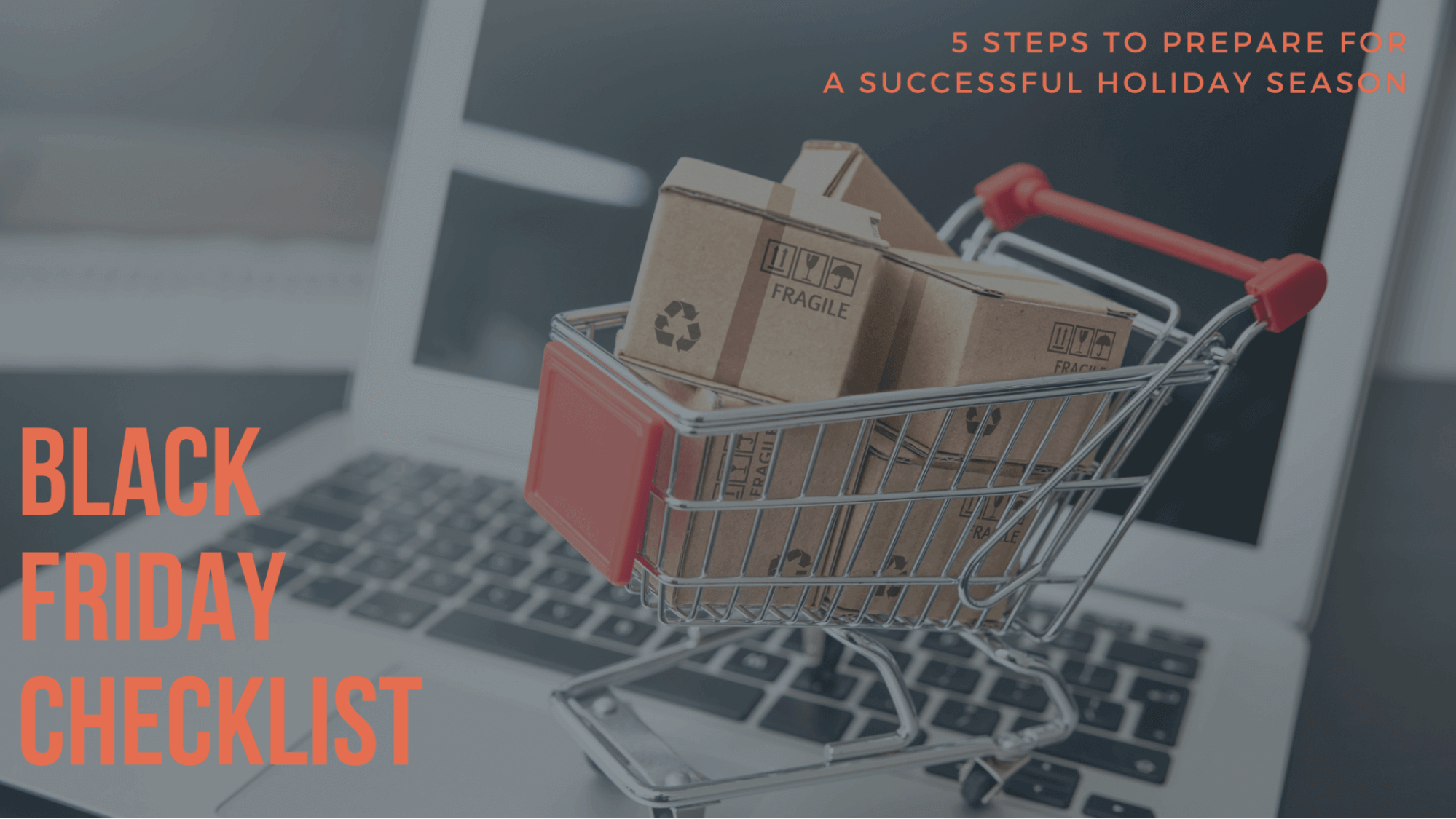 In about 9 weeks, the busiest shopping season is set to begin. Are you ready?

Customers will soon begin searching for holiday gifts and deals to add to their online shopping carts. Get ahead of the game with our holiday prep list and learn how you can make the most of the holiday rush.

In 2021, Mastercard found online shopping had grown by 11% compared to 2020 and by 64% compared to 2019, with Black Friday topping the highest spending day of the year. As online traffic increases for the holiday season, it's important to start preparing for Black Friday now.

To help you, we have compiled a checklist to guide you through preparations that will help you have a successful holiday season.



Planning Is Everything
As customers begin shopping earlier, businesses should also begin preparing earlier. Having a plan in place well before the shopping season will save you time and stress. Creating a plan takes time, as multiple areas must be considered.

Making a plan may include analytics research, setting deadlines for marketing, setting guidelines for costs, and so much more. It is also important to evaluate what has worked for you in the past and identify issues you experienced previously so you can find solutions for this year. Gather your team and work together to create a plan that best suits your needs! By having a plan, you will know what steps need to be taken and how to efficiently navigate holiday sales.

Analyze. Adapt. Assign.
Be prepared for what's to come. 21% of U.S. consumers research brand and product choices before they buy, so your first step in holiday prep should be to analyze your stock and trends. Using services like Google Analytics can help businesses understand what possible customers are searching for and help to tailor their products for the season. You should also consider past shopping trends - what sold well before? How did customers choose to ship? By analyzing these topics, you can make informed decisions on how to stock and manage your inventory.

To prepare for the holiday season, inventory management is critical. Knowing how much and how well your stock sells will play an important part in prepping for Black Friday. A good inventory management system can also be the difference between a successful holiday season and a lost opportunity - you can't sell what you don't have.

Inventory management software can help take the guesswork out of figuring out what is the "sweet spot" of inventory needed to fulfill orders and allow lead time for reordering. You can also use it to track inventory and setup notifications for when your stock is low. Inventory software is integral to an operation when you're a retailer. It controls the inflow and outflow of inventory. Knowing your inventory and making your inventory something you can rely on is the most significant step you can take to prepare for holiday sales.
Website Wins and Woes
Black Friday will bring increased traffic to your website. To be prepared for incoming holiday shoppers, you should test your site to ensure it can handle an influx of traffic. While you test your website, try and see the site with an outsider's perspective and ask yourself questions like:
Is the website easy to navigate?
Do your images load correctly?
Are prices and descriptions clearly visible?
All of these things can negatively affect a shopper's attention. You may also want to check your hosting plan or test your site speed. Google offers a page speed test that could help determine if you need to make changes.

In addition to your website, mobile applications are increasingly becoming important to the holiday shopping season. According to ClickSend, 61% of all online Black Friday sales came from mobile transactions in 2019. Furthermore, 45% of global consumers say they're shopping more on their smartphone since COVID-19 began. If those numbers weren't convincing, Simicart states that 65% of clicks on paid Google search results come from mobile devices and that mobile is the dominant platform for searches, with 48% of buyers using a smartphone to start searching with a search engine. To put it concisely, a mobile app should be considered an important tool for customers to shop from. Therefore, how a mobile app runs is also important. If you have one, now is the time to make sure it runs smoothly. If not, consider if you have the time to roll out and test a mobile application.



Go for the Gold
After all the planning for marketing and discounts, the focus should be solely on the customer. How can their experience be made extremely satisfactory? One opportunity is payment options. Offering multiple reliable payment options casts a wide net for many customers. While planning, companies should consider their payment integrations well before the holiday season to ensure they are prepared. If you plan to implement any new payment integrations - start early! In addition to payments, checkout processes should be seamless.

Be prepared with customer service ahead of time. Plan to have adequate staffing and scheduling in place for the holiday period. The ability to have issues resolved quickly or have a knowledgeable associate on hand creates a positive experience for the customer. They know someone is there to answer any questions or help with what is needed, therefore creating a sense of trust between the customer and your business.

Finally, though returns are not wanted - they are almost always guaranteed with an influx of sales. Ensuring that a return process is quick and painless means a customer may feel more comfortable shopping again in the future.
Conclusion
While Black Friday can be a stressful time of the year, you can keep cool by creating an effective plan ahead of time. Now is the time to start preparing!

If you want to ensure that your inventory stays reliable during the holiday season, there is no better time than now to get an inventory management system up and running. Contact us to learn more and let backorders be your competitor's problem.