Shoppers are starting their holiday shopping earlier than ever before. Companies like Amazon and Target have already noticed these trends (and have added a pre-holiday sale this year for those early buyers).

To help support your holiday sales objectives, we have put together a list of the top retail challenges for this year's holiday season, along with some ways to make this holiday shopping season merry and bright.


Holiday Shopping: A Look At Last Year
The Wunderkind Outlook Report has dubbed 2021 the biggest holiday shopping season in U.S. history. Last year, consumers spent a whopping $200 billion on their holiday shopping for the first time ever.

2022 Holiday Sales: The Stats
We have scoured the internet and have put together the 5 most interesting statistics on 2022 holiday sales to help you get ready.

Key takeaways are:
The pandemic has moved more people to online shopping.
Shopping via mobile apps continues to expand (make sure your online shop is optimized for those mobile shoppers).
In 2022, trillions were lost in abandoned carts (push more people to purchase by offering discounts to the customers that have left items in their carts and did not make a purchase.)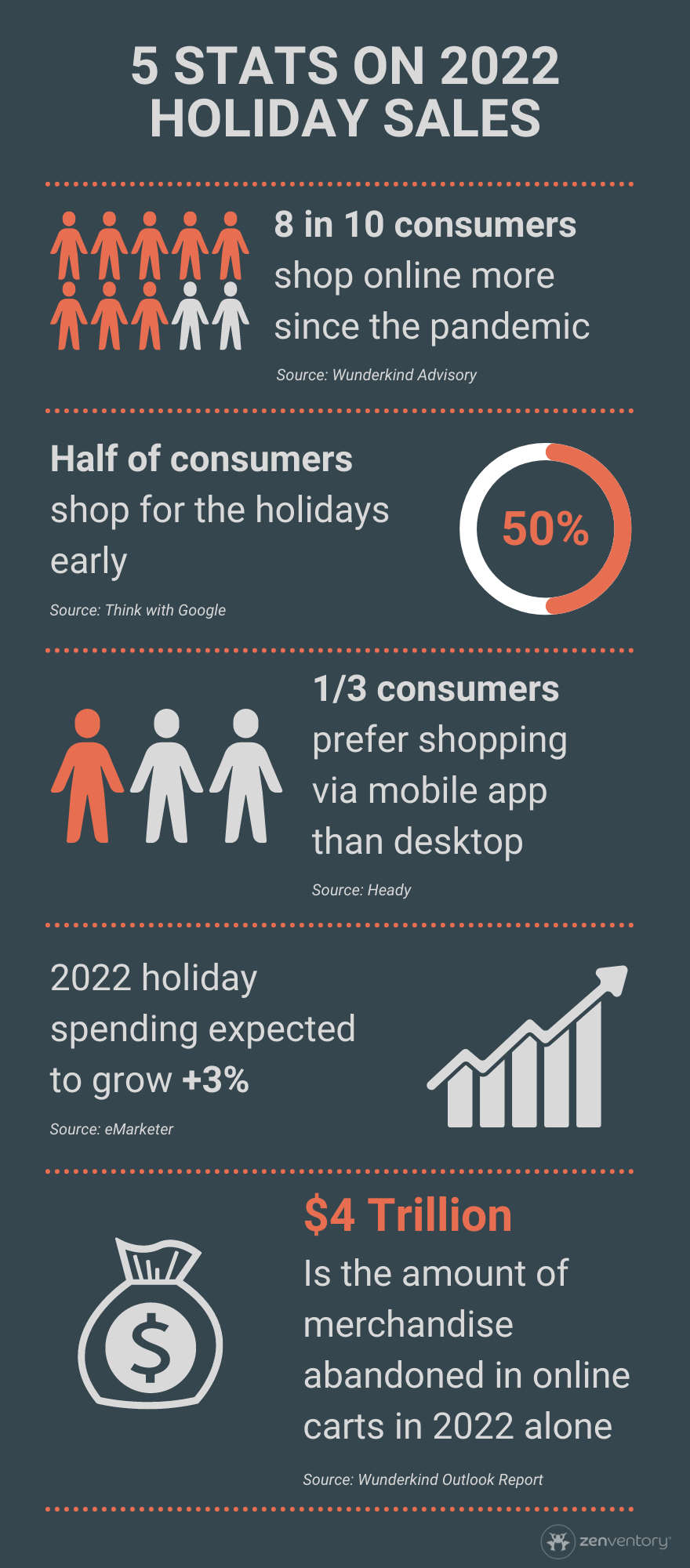 2022: Expect This Year to Be Different
The outlook for this year's holiday shopping is very optimistic, especially considering the uncertainty created by macroeconomic challenges like soaring interest rates and declining disposable income. However, you might want to re-evaluate your selling tactics because they might not bring the same success this year. It is more essential now than ever to adapt to shifts in consumer habits, preferences, and, most importantly, mindsets.
The Holiday Shopping Grinch: Macroeconomic Challenges for 2022
In 2022, retailers will have to face not one, not two, but multiple macroeconomic challenges during this holiday season. In order, to combat these challenges, you must understand your enemy. Here are the top challenges that sellers will face this season.
Rising Interest Rates
This year we have undergone interest rate hikes by the Federal Reserve. With the increased interest rates, shoppers might be less likely to buy using credit cards.
Increasing Debt & Declining Disposable Income
Compared to last year, disposable income is down 4%. With the combination of debt levels increasing, shoppers' spending capacity is becoming more limited.
Ongoing Supply Chain Constraints
It might sound like a broken record by this point, but supply chains are still undergoing constraints and challenges of their own. With major ports continuing to see delays, some materials still remain scarce. Also, the widespread labor shortages will likely restrict the ability to fulfill orders.


The Good Things Ahead
Though there are some challenges that sellers will have to contend with, here are some positives that can help with the holiday selling spirit.
Wages Are Up
Seasonally unadjusted nominal hourly wages grew 4.4%, making consumers feel a bit wealthier.
Consumers Got the (Spending) Power
Total cash and checkable deposits are 3.8 times higher than pre-pandemic levels. Also, millions are expected to benefit from the new student debt-relief plan.
Higher Employment
The unemployment rate is hovering at pre-pandemic lows, hitting 3.5% in September, as workforce participation climbs back from last year.


To Survive Uncertain Times, Don't Be a Scrooge
It might sound counterintuitive during uncertain economic times, like the one we are in right now, but to survive, holiday winners will continue to invest through the uncertainty. To quote Bain & Company, "most is won or lost in times of turbulence." While your competition begins pinching their pennies, up your spending a little to pull out ahead.

How to Invest During Uncertain Times
Not all investments are monetary. Investments can also mean your time, providing resources for free, or just making your return process as easy as possible.
Value Your Customer's Time
In a digital world, your customers receive a constant bombardment of other brands' messaging and promotions. Make what time your customers give you enjoyable and worth their time. Some ideas to help make your customers' interaction with your brand a positive experience are:
Remove barriers so your customers can easily find what they are looking for by making your online shop easy to navigate.
Make it easy to access help if your customers have questions.
Have a hassle-free process for returns to ensure your customers' experience does not dwindle after they purchase your product.
Remember: The world is full of choices, so help make your product stand out by emphasizing how your product is unique and what sets it apart.
Past, Present & Future: Tips to Get Ready for the Season Ahead
Consult Your Past
Review your past holiday sales and utilize forecasting reports to help you avoid running out of stock this year.
No Time Is Better Than the Present
Now is the time to make sure your inventory counts are accurate. Prepare for the shopping season to come by completing a cycle count or use a tool like an inventory management system to easily review the dates of your last physical inventory by location and spot areas that need an accuracy check.
Future Plans for the Selling Days Ahead
It is essential to plan ahead for potential customer problems and have a way to turn those problems into successes with contingency plans like:
For out-of-stock items, provide an upgraded item substitution
Pre-print labels so your customers can make returns easily
Run campaigns around electronic gift cards when it gets closer to the holidays and shipping is impossible


Technology = Your Competitive Advantage
Evaluate all your tools for the holiday season (website, online shop, marketing tools). Your arsenal of technology gadgets and gizmos can be what helps you stand out. As you review your tools, also determine if there are any applications out there that can help you succeed during the shopping season.
Your Competitive Advantage: Make Fulfillment Delays & Stockouts Your Competitor's Problem
Make sure you are ready when the holiday orders start rolling in with an inventory and fulfillment application like Zenventory. Zenventory is a one-stop shop for your e-shop this holiday season. Using the app, you can track inventory, automatically sync your inventory across all your channels, and fulfill your orders with order management and shipping.
Explore Zenventory and see if it can help you this holiday season >>>