Zenventory has rolled out the latest API integration with its shipping systems to improve workflow for inventory users everywhere.
In case you didn't know, an API, or an Application Programming Interface, makes it easier for Zenventory to work with shipping systems like ShipStation and ShipWorks. This is important because, as we run a business, we want a real time check of our stock levels without any miscommunications or errors when it comes to our customers' purchase orders.
The success of your business/es is important to us, just as it is for you and your counterparts. We are always eager to build improvements in any way, shape, or form. It is why we felt that integration was key to boost operational excellence. The process will be in some ways the same but it will save time and decrease errors.
Take a look at our process before:
When using Zenventory before the improvement, your online marketplace would gather eCommerce orders from various shopping carts like Amazon, eBay, OverStock, X-Cart, etc. Those sales orders would be sent over to Zenventory, your inventory system, to pick items from your warehouse based on sales orders and pack them in order to ship out.
However, before anything could proceed, Zenventory would have to send all this information over to a shipping system like ShipStation or ShipWorks so that they could convert all that mumbo jumbo into inventory words that our program could understand. After Zenventory receives the orders, picks and packs ordered items, your inventory system would then be ready to send the items out to ship via one of the popular shipping systems.
This all seems so tedious and I'm sure you agree that we're not all too fond of waiting. This is especially true when time is of the essence, as time is money. So ergo, our API improvement. Zenventory made it its mission to create a solution for this issue. After all, Zenventory wants to help you reduce stock levels and keep your business in full bloom effectively. Therefore, the latest improvement within the API integration not only facilitates eCommerce order information onto your your inventory system, but it also saves time and decreases errors.
How is That Possible? Here's How: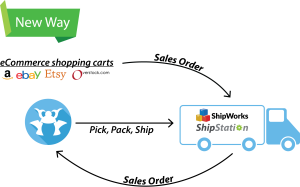 If you take a look to your right, you will see that all eCommerce order information that is collected from your shopping carts will go straight into an integrated version of your shipping system.
They will take care of all the details and get them organized in a timely manner. This is possible because of our API integration. It's basically a direct door created to sync sales order details and other pertinent information gathered from the shipping systems directly into Zenventory without the wait. You can see that with this small improvement, Zenventory is able to power through by picking and packing order items and shipping them all at once, without the wait and hassle. How's that for saving time and money?
Be sure to check out some of our popular shopping cart and shipping systems that our users like to integrate for their business process: ShipStation, ShipWorks, ProShip, Endicia and more!