The year's best (and busiest) sales months are almost upon us - and there is no better time than now to start preparing. Proper planning and execution for the peak season can make or break your operations, especially when it comes to inventory management and fulfillment.
Keep reading to explore the best strategies to help you prepare for peak season, optimize your inventory management, and ensure your fulfillment process runs smoothly.

Topics we will be discussing: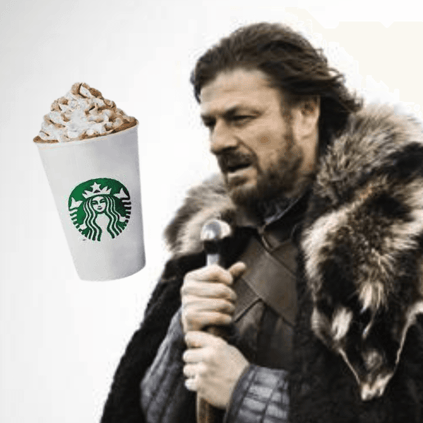 PSL: The Harbinger of What's to Come
If you are wondering when we are getting close to peak season, let me introduce you to the first signal that peak season is near: the return of the PSL. Starbucks' release of PSL, or Pumpkin Spice Latte, lets us know that the fall season is upon us (even if it is in August.) Therefore, when Starbucks drops its fall menu with PSL, you know the peak season is fast approaching. Any changes to your current inventory and fulfillment process should be made now so that you can be up and running by the time peak season goes into full swing in November.


August: The Beginning of the "Get Your Business in Order" Season
If we are looking at what awaits us for the rest of the year, let's break down the remaining months to see what stands between now and 2024:
August to October = Get your business in order season
November to December = Peak shopping season, aka the best sales season of the year
When you hear August, yes, you might think of the ever-popular Taylor Swift song, but you should also think about the preparation needed for the coming sales boom. Utilize August to start planning, ordering, and preparing your business for November and December.


The Importance of Peak Season Planning
Holiday shopping can bring in up to 30% of a brand's annual sales. So, for many businesses, the holiday peak season is what stands between having a successful year or not. Planning helps you prepare and be ready for what is to come. It also sets you and your business up for success because both inventory management and fulfillment depend on strategic planning and implementation. Ensure you are making informed decisions and prepare for the upcoming demands by taking a look at historical data and analyzing the past trends. It is also important to keep an eye towards the future. Monitor current market trends so you can cash in on trending products. A tool that can be used to help you "discover trends before they are trending" is Exploding Topics.

Strengthening the Supply Chain: 5 Steps for Peak Season Inventory Management
To help build a resilient supply chain and prepare for peak season strains, there are five key steps that you can follow to make your life easier:


#1 - Inventory Sourcing
Reinforce relationships with current suppliers and collaborate with them to make sure they have no problems meeting the expected demand. This will help bring to light any reliability issues for inventory during the busiest shopping season.

#2 - Demand Planning
It is crucial to have a clear understanding of how delays in receiving inventory from suppliers can impact the whole process. Align management and team members on the potential consequences of delayed inventory. This will proactively address any issues and minimize disruptions.

#3 - Warehousing Management
Have management be readily available to take immediate action when warehouse inventory becomes inadequate, and the current supplier is not able to keep up. This approach will help prevent bottlenecks and ensure smooth operations.

#4 - Customer Service
Solid and direct communication with customers separates good companies from great companies. Address issues promptly to maintain customer satisfaction and loyalty.

#5 - Inventory Management
Complete visibility into current inventory is necessary when making informed inventory management and fulfillment decisions. Leverage technology to gain real-time insights into inventory levels and optimize stock levels accordingly.
Peak Season Inventory Management & Fulfillment Strategies to Keep In Mind
Peak season demands and supply chain disruptions pose the biggest challenges for businesses. To help you optimize your inventory management and fulfillment this peak season, here are some strategies to consider:

#1 - Think "Goldilocks" When It Comes to Inventory
Be like Goldilocks when it comes to finding the right inventory balance before peak season. You don't want too much inventory that you are paying for extra warehouse space, and you don't want too little inventory that you sell out quickly. Try to strike the right balance ahead of time. Analyze sales trends and historical data to forecast demand accurately and adjust your inventory according to the data you've collected.


#2 - Put Your Operations & Procedures to the Test
Conduct a thorough evaluation of your warehouse operations and procedures to identify weaknesses and potential bottlenecks. Stress-testing your systems, operations, and procedures before everything goes into hyper gear during the peak season will help you identify areas that need improvement and ensure smooth operations.

#3 - Communicate with Vendors & Team Members

Keep clear and open communication with all your vendors and team members. Communicate goals, processes, and guidelines and make sure it is understood by everyone to avoid misunderstandings and delays.

#4 - Adapt Quickly to Trends & Retailer Needs
Market trends and retailer demands can change rapidly, especially during peak seasons. This has only become more prevalent with TikTok and the trends that are spawned on that platform (looking at you - 12-foot skeleton at Home Depot). Stay agile and be prepared to adapt to any evolving trends, because you never know what trend will be in your favor.


#5 - Embrace Modern Innovations & Technology
Modern innovations and technology can change your current processes for the better. Using technology like an inventory management system can significantly improve operational efficiency and accuracy with real-time inventory, automation rules, and the ability to be the all-seer of order statuses.



Final Thoughts
Peak season inventory management and fulfillment require careful planning, proactive strategies, and the right tools and technologies. By following the steps outlined in this article, you can be better prepared for peak season and everything that comes with it.
Trust Zenventory to Help Optimize Your Inventory and Fulfillment This Peak Season
Zenventory is a reliable and trusted all-in-one e-commerce operations platform that can help optimize inventory management and fulfillment. Gain real-time inventory visibility, use automation rules to banish tedious tasks, receive notifications about your orders, and so much more.